In the afternoon of September 11, 2001, The Toronto Star published a rare "extra" edition of the paper with the huge headline "America Under Attack." I'd been watching live television of the attacks all morning, but it hadn't occurred to me, not knowing how to process what I was seeing, that that was specifically what was happening. America was under attack.
I thought about that headline, and other memories from that day, while watching Come From Away on Broadway last week. The unlikely musical, written by a Canadian couple, tells the story of the many Americans who were unable to land in the United States when U.S. airspace was suddenly closed, and instead ended up in the town of Gander, Newfoundland.
A Playbill insert explains that in order to create Come From Away, "writers Irene Sankoff and David Hein collected hundreds of hours of interviews with locals in Newfoundland, as well as the passengers who were stranded there during that fateful week." The resulting dialog felt very true, and it was easy to believe that many lines had been lifted verbatim from real people.
I was deeply moved by Come From Away in ways I found surprising, though you should perhaps take that with a grain of Atlantic sea salt for a couple of reasons. One, since the show has no intermission, I ordered a double cocktail before settling into my seat and felt sobriety slip away throughout the performance. (The two thematic cocktails available at the theater [sic] bar were called The Islander and Kiss The Cod. I ordered The Islander, which, having apparently been created by a bartender unfamiliar with the subject matter, was a fruity tropical beverage. Wrong island!)
The other reason I got a bit emotional was more personal, even though I have no personal connection to the 9/11 attacks. More on that later.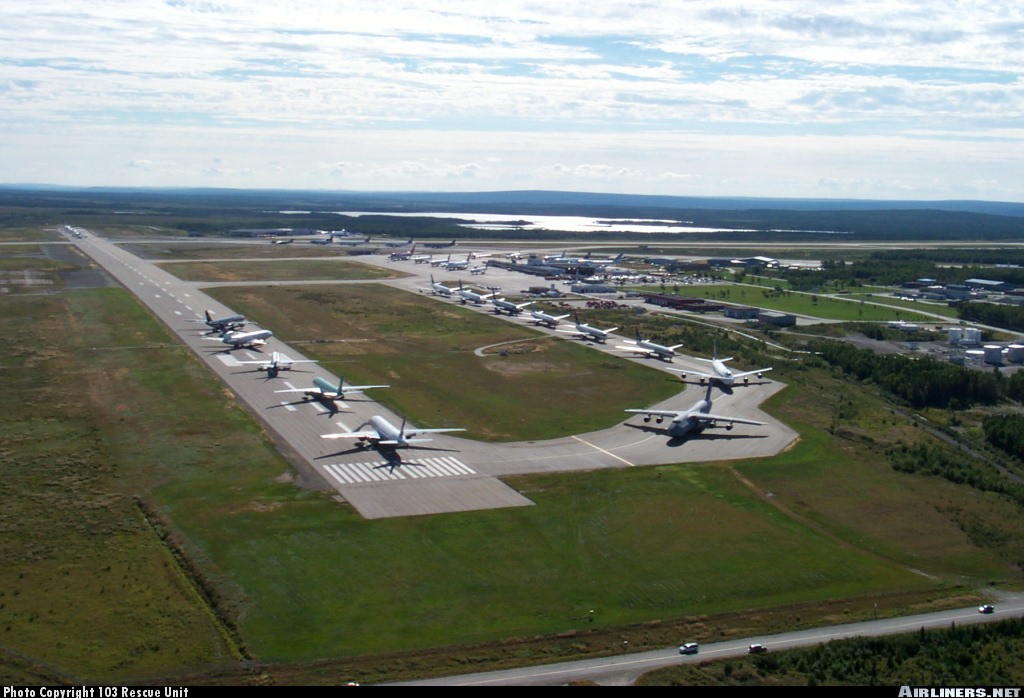 It's easy to forget how much the world has changed since 2001, as indicated, for example, by the existence of that extra print edition of The Star. Many people didn't have cell phones, and the phones that existed didn't have web access. News websites existed but were not as robust as they are today. As the attacks unfolded, people looked to television and newsprint for updates, and used pay phones and other landlines to get in touch with friends and family.
Unless you were on a plane, in which case chances are you had little to no idea what was going on or ability to contact the outside world. Some pilots chose to downplay or mislead their passengers about the events unfolding in the U.S., while other pilots were kept in the dark themselves, unclear on why they'd suddenly been diverted and told to land.
As soon as the FAA closed U.S. airspace, the Canadian government ordered Canadian airports to receive those flights that suddenly had nowhere else to land. During the emergency, "planes were entering Canadian airspace at a rate of one to two planes per minute." In the confusion and panic of that morning, there were many false reports of additional hijackings and bombs, and no one knew if these flights were safe. As the mayor character in Come From Away grimly but accurately notes, as many planes as possible were to land in his town rather than at busier airports in more populous areas to ensure fewer people were being placed at risk.
Gander was only one of seventeen Canadian airports to accept diverted flights, but it stands out for the staggering ratio of passengers to population. Fewer than 10,000 people called Gander home when about 38 planes carrying around 6,500 people suddenly showed up. (The fact that I can't confidently be more specific than "about 38 planes," regarding a relatively recent event taking place within a highly regulated and heavily monitored environment, should give you reason to question any historical facts you think you know. I've seen reports of 37, 38, and 39 planes, possibly due to inconsistent accounting of civilian vs. military aircraft. Different government agencies and officials also disagree on the total number of diverted planes that landed throughout Canada that day as part of what was called "Operation Yellow Ribbon," reporting a range of between 224 and 250 planes!)
The musical portrays many of the logistical problems that had to be dealt with: where to shelter all these people, how to transport them in the middle of a bus driver strike, what to feed them, how to clothe and care for them, not to mention what to do about animals in the cargo-holds. The audience also relives, through the characters of Gander, what it was like to first hear the news of the attacks, and then witnesses, through the passengers, what it might have felt like to have heard very little while trapped on planes for up to 28 hours, only to have a day's worth of terror dumped on them all at once.
Those scenes gave me chills, but they're still not the thing that, aside from The Islander, made me the most emotional.
Come From Away is one of the best, most nuanced, and likable artistic expressions of Canadian culture I've ever seen. Stereotypes like Tim Hortons, Shoppers Drug Mart, and Rogers Cable news, so often used to depict Canadianness cheaply and unthinkingly, are placed in a meaningful context that actually provides a sense of how people in Gander live. Later, a "Heave Away" sing-a-long (complete with an Ugly Stick!) is followed by a reenactment of a screech-in ceremony which must seem at once charming and insane to American audiences.
And yet, the play isn't even about Canada, and that's what surprised and hit me. Ultimately, the protagonists are the stranded Americans, "the plane people" as locals call them. The celebratory climax is when they get to leave Canada and finally return home. The Canadian writers understood the show is fundamentally about America under attack. By weaving an affectionate and funny love letter about the people of Newfoundland into a story about another country's tragedy and pain, Come From Away is insightful about and respectful of both countries at once.
It's a story about Americans, written by Canadians, for Americans. And I got to see it as a Canadian living in America, surrounded by a mostly American audience, which made me feel a whole bunch of things at once.
As people walked passed me out of the theater [sic], I overheard "that was amazing," "that was incredible," and "do Canadians know about this?!" One ten-year-old girl was saying to her father, "it was like it was a whole, and we were one half of the whole." She might have been talking about the performers and the audience. She might have been talking about the Canadians and their American guests.
Importantly, Come From Away doesn't ignore the sadness and ugliness of that day and the days that followed. A medley of monotheistic prayers, emphasizing unity and understanding, is immediately followed by an angry mob verbally attacking muslim passengers. The hospitality and compassion at the heart of the show is made more important and powerful because it's mixed in with the reality of fear and anti-muslim sentiment.
On October 2nd, 2001, the Pittsburgh Post-Gazette published a letter of gratitude from an American family recounting their involuntary stop in Newfoundland. It concluded: "This experience will stay with us during this time and continue to remind us that we have more friends than enemies in this world."