Colonel Lawrence Vincent Moore Cosgrave was a Canadian war hero. For his service in World War I (he was at Ypres, he was at the Somme) Cosgrave was decorated with the Distinguished Service Order twice, received the French Croix de guerre, and was blinded in one eye. He even claimed that his friend John McCrae wrote the poem "In Flanders Fields" on a scrap of paper on his back.
That's not what Cosgrave is best remembered for, though. His most enduring contribution to world history, the time he really made his mark, so to speak, was when he signed on the wrong line of Japan's World War II surrender document, messing the whole thing up:
Canada signed the wrong line on the Japanese WWII surrender document and now it looks like shit, thanks Canada pic.twitter.com/62CROUvMix

— Dan Amira (@DanAmira) August 31, 2016
The Dominion of Canada had made a "most tragic contribution" to the Pacific war, writes Geoff Ellwand, through "the hopeless defence of Hong Kong" which saw almost two thousand Canadian casualties. At the closing of the war Cosgrave happened to be stationed in Australia, and was likely called upon to sign the Instrument of Surrender simply because he was the "closest available Canadian of sufficient rank."
So he reported for duty, and the Allies started signing from top to bottom, starting with the Untied States, then China, and so on. But when it was Cosgrave's turn, well, Allan Richarz explains what happened next:
When signing the Japanese copy, Col. Cosgrave – perhaps owing to blindness in one eye – placed his scrawl below the line reserved for the Canadian signature and instead signed on the line of the French representative… Each subsequent delegate eventually signed on the next available – if incorrect – line; the final delegate from New Zealand simply signing his name in a blank space underneath the others, his signature line having been commandeered by the Dutch.
Somehow, things got even more awkward from there. You will note that, in the above photo, the names of each country below each signature have been manually altered. That, continues Richarz, happened after the Japanese protested:
Douglas MacArthur's famously brusque chief of staff General Richard Sutherland scratched out the now-incorrect list of Allied delegates and handwrote the correct titles under each signature, adding his initials to each correction to forestall further protest. The Japanese were then dismissed from the USS Missouri with a short 'Now it's all fine' from Gen. Sutherland.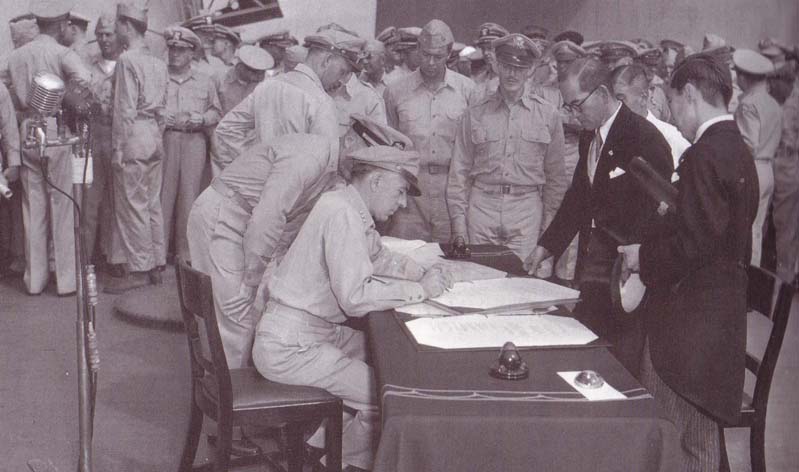 If you're feeling like it's still too soon to think any of this is funny, it apparently amused people even at the time (though probably not people in Japan). According to Ellwand, The Globe and Mail's report said the incident "put a touch of humor in the gravest ceremony of our time." The reporter went on to write that "Col. Cosgrave's botch … will rank high among the historic bobbles of our time."
There may still be hope for poor Cosgrave's reputation, though. Internet forums contain at least a couple Cosgrave truthers who point out that U.S. General Douglas MacArthur appears to have distracted Cosgrave during the signing!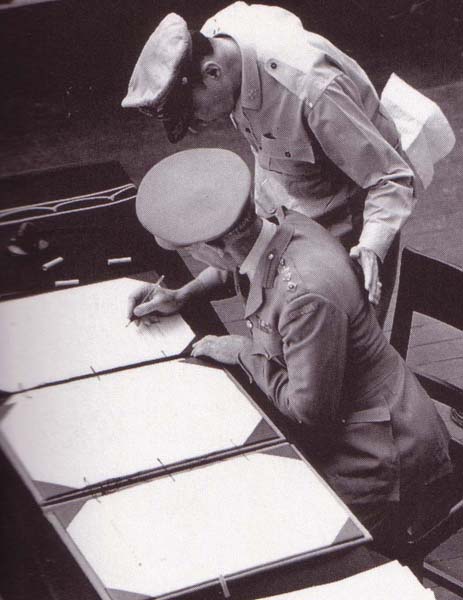 If this is true, then there is no doubt video evidence in existence, but I can only chase a 70-year-old inconsequential conspiracy theory so far. While I didn't find any footage of MacArthur waving his hands and shouting "look over here," I did watch several videos of the signing, one of which I turned into this gif of Cosgrave signing for Canada.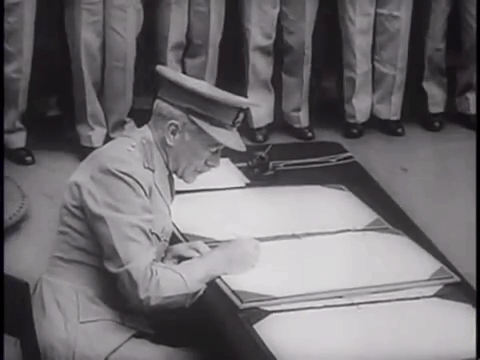 And suddenly, watching him actually sign, this all seemed a little less funny to me. He's only 55 here, but he looks older. He's been through a lot. I think we can give him a pass.
Incidentally, Cosgrave got it right when he signed the Allies' copy. The botched version was given to Japan, where it can still be seen at the Edo-Tokyo Museum.