Early this morning I arrived in the San Francisco Bay Area, where I now suddenly live, having moved from New York City for a new job. One of the implications for this blog is I now have to decide if my weekly post deadline is still midnight Sunday Eastern Time, or if I'll give myself an extra three hours and adapt to my new local time. Another implication is that I'm thinking about historical Canadian connections to California.
Today, Los Angeles is the undisputed megacity of California, but in 1852 L.A. had a population of only about five thousand people, way fewer than San Francisco's 36,151. And at least some of L.A.'s growth into what it is today is credited to a former French Canadian mayor.
Prudent Beaudry was mayor of Los Angeles from 1876-1878. I learned about him and his brothers from Gaétan Frigon's chapter in Legacy: How French Canadians Shaped North America. The Beaudry bros were born outside Montreal. When Prudent Beaudry was 32, he decided to follow his brother Victor to San Francisco, where, Frigon writes, the two Canadian business men set up a business selling — and this is not a joke — syrup and ice.
Two years later in 1852, Beaudry moved to the small town of Los Angeles which counted six hundred French speakers among its population of around five thousand. He began to build his fortune in real estate, buying up and developing "barren" land just north of downtown L.A., including what today are the neighbourhoods of Bunker Hill and Angelino Heights.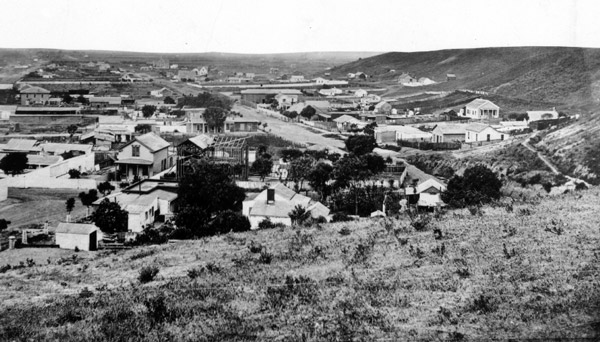 "The subdivisions would be worthless, though," explains Frigon, "unless water could be conveyed to them." So next he needed to create the Los Angeles City Water Company, which pumped water to his new "upscale residential neighbourhoods." To design the villas, he turned to "an engineer from the first graduating class of Montreal's École Polytechnique."
Twenty four years after he first moved to L.A., in 1876, Beaudry was elected mayor. By at least one account, he was a pivotal one:
The 1889 publication An Illustrated History of Los Angeles County, by J.J. Warner, a prominent citizen who knew Beaudry well, contains the following assessment of the French Canadian's time as mayor: "It was a transition period for Los Angeles, and the services of just such a clear-headed, energetic and incorruptible man as Mr. Beaudry were needed to guide the struggling young city through the difficulties of changing from a Spanish American town to the proud position of being the commercial and political rival of San Francisco…"
Historian Hubert Howe Bancroft backed up this assessment, writing in 1890 that "there is no one to whose enterprise and public-spirited policy of Los Angeles is more indebted for her development from a struggling village in 1852 to its present position as the metropolis of southern California."
I maybe shouldn't be so surprised that L.A. had a French Canadian mayor, because Beaudry wasn't even the first! Damien Marchesseault, also from Quebec and an associate of Victor Beaudry, became mayor a few years after Prudent Beaudry moved to town. He killed himself in the council chamber, though.
In another weird detail, the other Beaudry bro, Jean-Louis Beaudry, was mayor of Montreal at the same time as Prudent was mayor of L.A. I'm going to have to find more time to dig into these guys, because I haven't even gotten into some of the other details found in Beaudry's Wikipedia page, including his belief that the United States should annex Canada, and Victor Beaudry's provisioning of the Army of the Potomac during the American Civil War.
That's it for this week, delivered before midnight in my old timezone. I expect this blog will adapt to Pacific time over the coming weeks, maybe more quickly than I do.