It is commonly said that the internet contains "the entirety of human knowledge." Some variation of the phrase is often used as a joke, like this: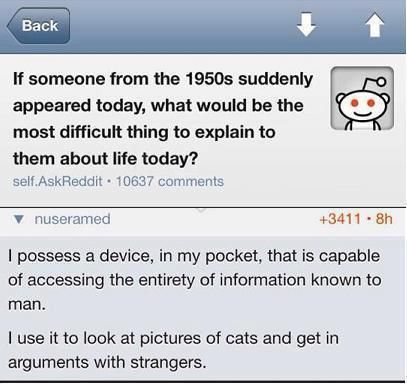 Though the idea is also invoked much more seriously, like when Wikipedia's Jimmy Wales says he's providing "free access to the sum of all human knowledge," or when Google says its mission is to "organize the world's information and make it universally accessible and useful."
Before I started researching Canadian history for this blog, I kinda thought it was true that all knowledge is available, easily, online. Realizing that's false has been one of the most surprising things I've learned this year.
I have been reading books.  And I will often come across a fact or a term in a book and find I have a specific follow-up question, or just generally want more detail. So I will go to Google, and get nothing. Repeatedly, I'll search for a name or event or quote and the only reference I can find online is in the book I just read.
Other times I have been able to find information, but just barely. For example, when researching Operation Fish: The secret plan to hide Britain's gold in Canada,  I found a lot of detail about this important event in Canadian history in an article that was only available online as a PDF hosted by the Australian Department of Defence.
My first main takeaway from this is that books are awesome, and the detailed information locked inside of books is still mostly unavailable, at least in an accessible way, on the internet. My second main takeaway is that libraries are awesome and still entirely necessary. I have a rolling document where I keep track of articles and books that I have to lookup the next time I'm at the Toronto Reference Library, because I suspect they contain answers that I haven't been able to find anywhere else. These are often books and articles that I couldn't even buy if I wanted to, because of how old or specialized they are.
It's been a bit thrilling to repeatedly hit the edges of the internet as I am also pushing the edges of my own knowledge. I've spent the last two weeks in particular focused on synthesizing facts and narrative from two challenging books in a way that I hope will be digestible. When I publish the post that will also mean that I am putting many of these facts and quotes onto the web for the very first time, even though the books are decades old.
In fact, I thought that was the post I was going to publish this week, but the edge of my knowledge did not outrun the edge of the week, and so about 20 minutes ago I gave up on that post and pounded out this one so as to not miss my quota. This is not the first time I've had to write a placeholder post, but I feel okay about this one because I want the next post to be ready before I publish it, and I think it will be next week.
No promises though, gotta keep you on the edge of your seat.